Hi friends! I just got back from a four-day weekend in Austin, Texas. We road tripped it down south for a weekend full of fun, sun, and weirdness. Instead of packing enough clothes to wardrobe everyone on the trip with me, I decided to keep it simple and try to get the most out of just a few pieces. Road tripping to Austin any time soon? Here's what I recommend throwing in your bag!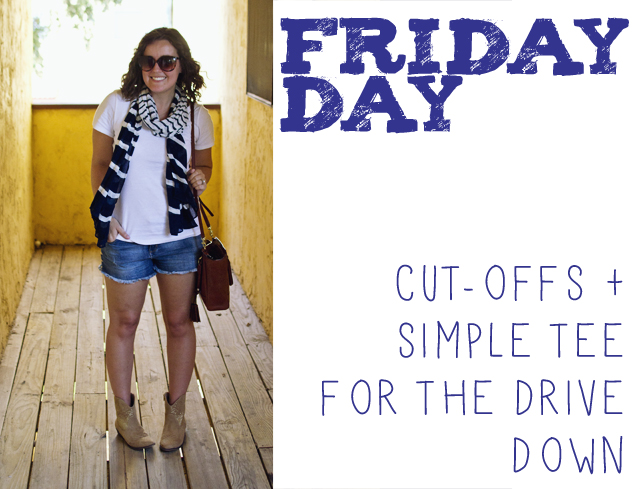 Doesn't matter if you're flying or driving - for travel, comfort is key! I chose super soft cut-offs and a simple tee and dressed it up with a scarf. I figured if it got too hot, I could always ditch the extra layer.
Once we all arrived, we decided to freshen up and head out for the night to Rainey Street, which is home to all sorts of cool little houses that have been converted to bars and restaurants. We had dinner at
and then played some ping pong on the patio at
. A black jersey dress kept me cool and the statement necklace dressed it up just a little.
Saturday day = floating! All you have to pack for that is a bikini and an ice chest. But after a day of fun in the sun we changed and hit up
for burgers and hung out at
for popsicle cocktails.
One of the things I LOVE about Austin is that you never quite know what you're going to get. We stumbled upon a rooftop patio that overlooked downtown on West 6th and spent the rest of our evening dancing. Another breezy dress to keep cool - in white to tone down the lobster look I was sporting after a day on the river.
For Sunday funday, we headed to
for brunch and shopping. I threw on my boots since I knew we'd be walking and took my friends to a few of my favorite little shops including
and
. It's a funky district that's SO fun to walk. We hit up
after our soco adventures for THE. BEST. PIZZA. I have ever had. I wanted to shove my face in it.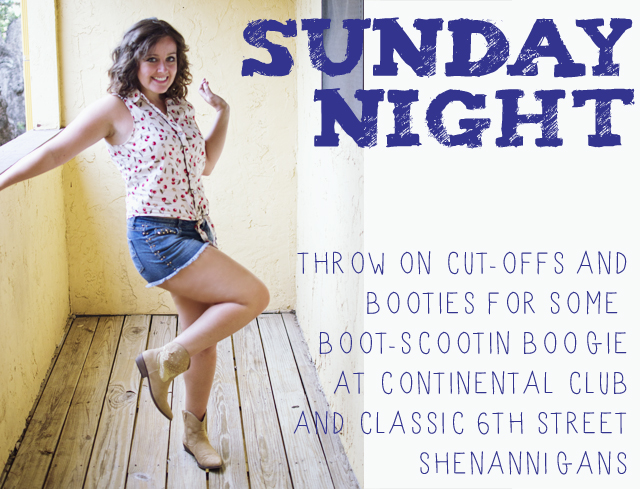 Finally, after a full Sunday funday we went home to freshen up and hit the town for one last hurrah. The girls wanted a True Texas experience, so I took them to the
for a little honky tonk action. Clearly, cut-offs and boots were required! After that we hit
since two of our friends had never been to Austin and we wanted to make sure they got the full weird experience. We finished the evening at
, the perfect spot for late night noms.
Sadly, Monday was our last day and everyone packed up and headed their separate ways. I took the last remaining few to Iron Works downtown for some BBQ and we hit the road. Thanks for another great time, ATX. You're totally my favorite.
PS - I love putting together these What to Pack/city guides for when I'm traveling, but I'm considering putting together some for other cities and vacation spots all summer! Thoughts?