I'm a carry-on kind of girl - I like the option of checking if I want, but rolling on if I need to. But an eight day trip in two different climates proved to be a challenge. I ended up packing in my
(seen in the hat photo below) and a rolling carry-on (one in the overhead, one under seat! boom!). So for a week in San Francisco and Los Angeles, it was all about neutral colors and light layers.
I took the time to find the either the exact items I wore or very similar in the collage above, and the links are below if you see anything you can't live without. I also travel with lots of scarves! They're great for stuffing holes in a suitcase and add a little something different to your outfits.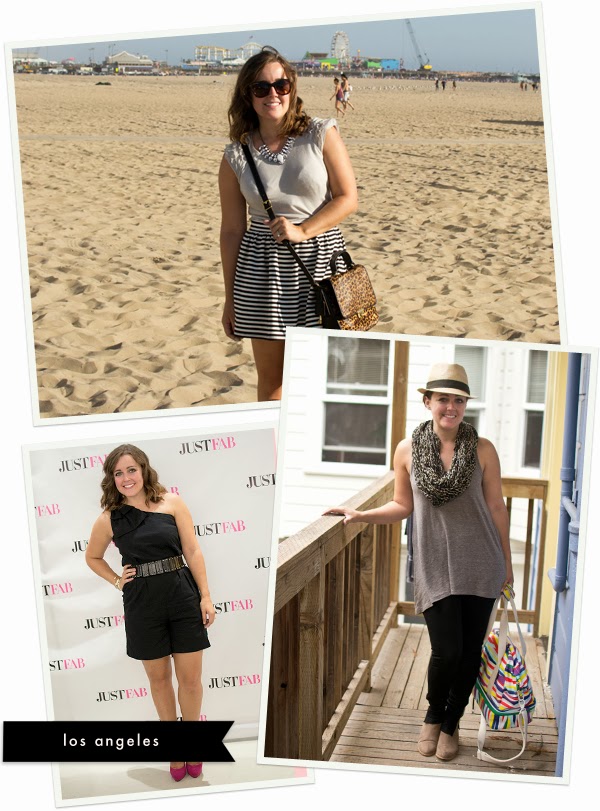 Our LA leg of the trip included everything from a red carpet event to riding bikes on Venice Beach, so I had to find pieces that could be dressed up or down.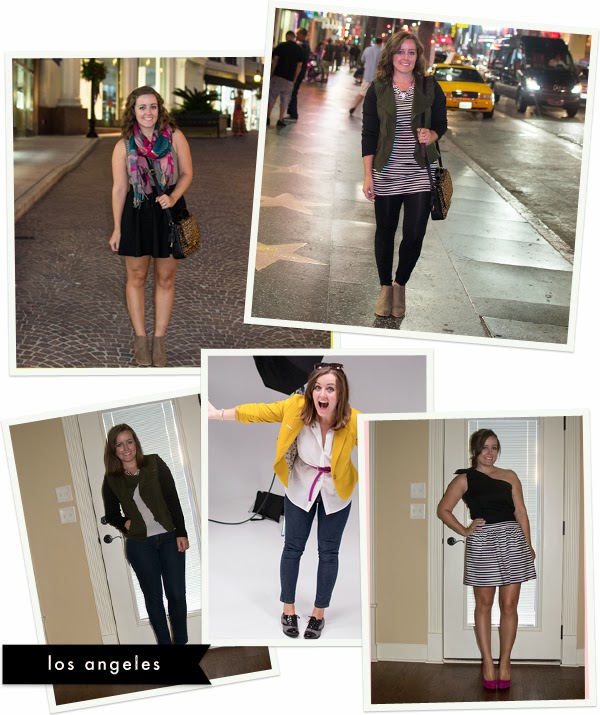 What I love about packing a LBD or romper is that you can layer to get a different look - by layering my striped skirt over the romper, I was ready for dinner. Below, I layered a black cami under a black skirt to get the illusion of a dress. Since they're separates, they can be used again with other pieces more easily. Day and night temps in LA can be really different too, so I got used to adding a jacket or leggings at night.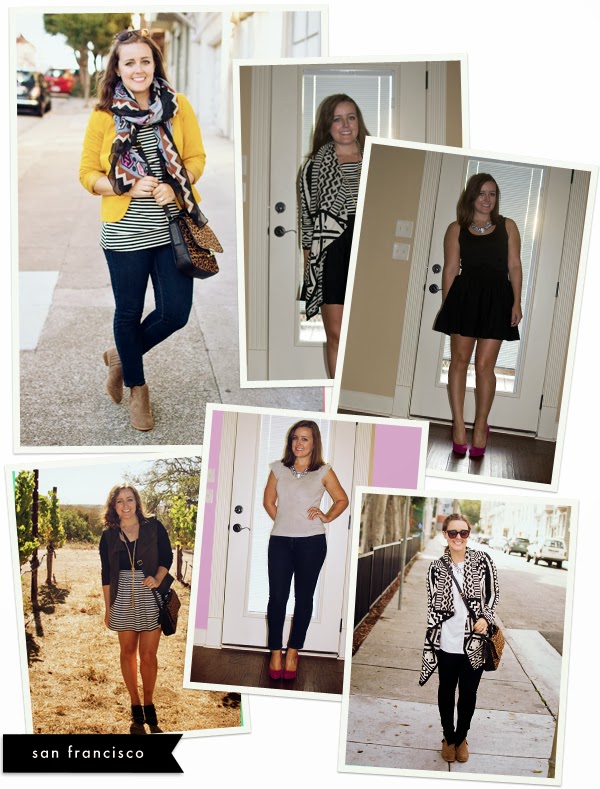 I got to pile on layers in San Fran! It was cold in the mornings and nights, and during the day I usually needed a sweater or jacket unless we were walking. I'd recommend layers you can easily take on and off because I went from hot to cold to warm to freezing in a matter of blocks! We also walked almost everywhere so comfortable shoes were a must. I always make the mistake of packing no comfortable shoes and end up hobbling all over the place so I was really careful this time. Ankle booties are my favorite travel shoe because they slip on and off easily for airport security, are comfortable for walking (most of the time), and can be layered up with socks for extra warmth or padding. I also found they go with almost anything, including skirts.
All in all, I made it! On the way home, I checked my rolling luggage and carried on my shopping bags that I'd accumulated. Looking at these photos I came up with AT LEAST fourish more outfits I could have worn, no doubt with belts and scarves there could be even more! There are a few that didn't get photographed as well. PS - I realize at the top I left out the white button up I'm wearing. I could have worn it with either of the skirts or tied up. Button ups are a remix master's dream!
The Items
Tops
, $108 |
, $12 |
, $38 |
, $25
Layers
, $98 |
, $30 |
, $55
Bottoms
, $15 |
, $13 |
, $20
Shoes
, $40 |
, $55 |
, $88 |
$35
, $218