Hello lovelies! I've been jet-setting all week for work. Sadly this left little room for outfit blogging, but it DID give me a little time to think about sharing my packing process with you. I'm basically obsessed with perfecting my packing and am constantly looking for new ways to be more efficient.
For this trip, I needed a combination of work appropriate clothes, something a little nicer and more fun for going out at night, and everything had to be super comfortable since I'd be on my feet most of the time. Plus, I lug a lot of equipment around so I'd have to somehow fit that into my carry-on as well.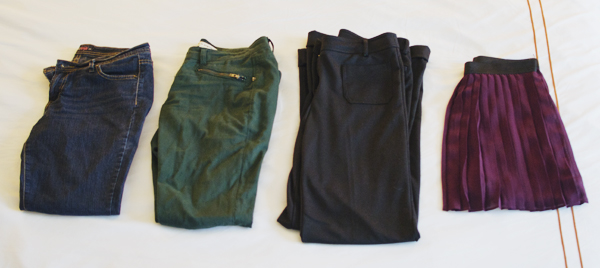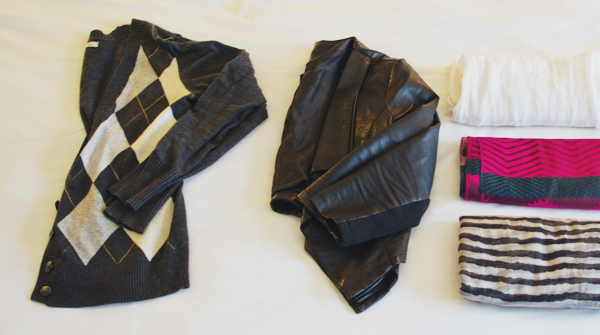 For this trip, I packed six tops, four bottoms, and 2 layers, as well as three scarves. I tried to keep all of the colors complimentary and packed a variety of types of tops so I would be comfortable in a variety of temperatures and settings - since I was traveling to a fairly warm climate in Austin, I chose lighter fabrics. I also brought along three pairs of shoes - a wedge, flat, and bootie. I wore one and packed the other two.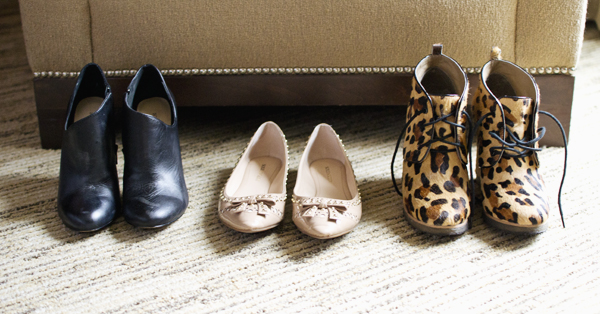 Before I left, I actually put together several outfits using all of the pieces together to make sure I had something that would work for a variety of situations. There's nothing I hate more than getting to my destination and feeling like I have nothing to wear. If you take pictures or write down your pre-arranged outfits, its a lot easier to just grab something and throw it on.
Alright, so. That's WHAT I packed, let's move on to HOW I packed. I found
recently and was very intrigued. I also saw an opportunity to make it even better. Most people tell you to take scarves because they squeeze into the holes in your suitcase easily and go a long way in making outfits look fresh and put together. I agree, but I also use them to improve my packing process.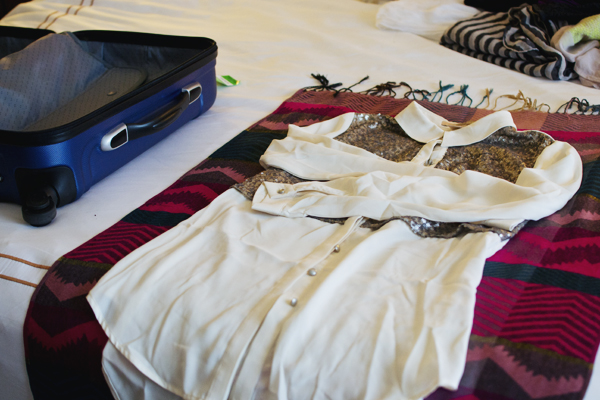 First, I lay a wide scarf out and lay all of my shirts flat on top of it, sleeves folded in.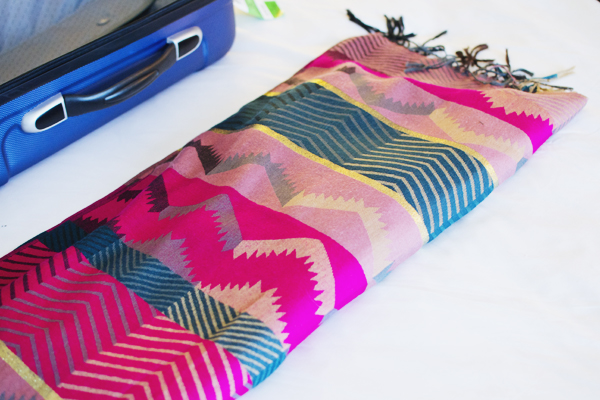 Next, fold the scarf and all of the tops on top of it in half, enclosing them inside.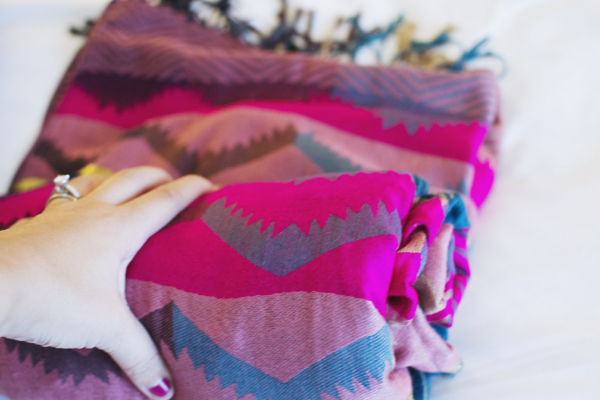 Now, roll the entire scarf into a nice little burrito and put that in your suitcase. Why this method? Well besides the fact that it takes up a ridiculously small amount of space, it also keeps your shirts from wrinkling, snagging, or moving around too much. I love that I can just place that in my suitcase and then pull the entire roll out when I get to my destination. People who live directly out of suitcases might not prefer this method, but I generally hang everything up when I get to my destination so it's perfect for my needs.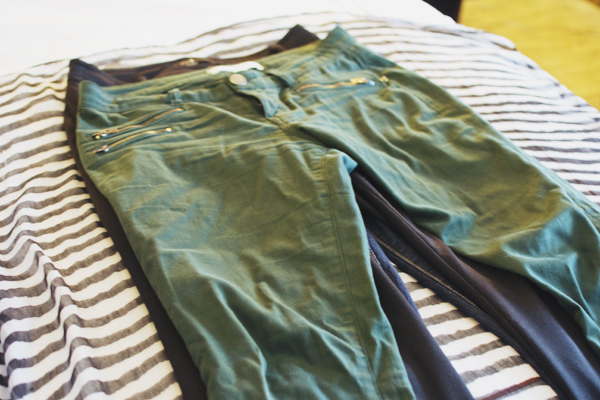 Do the same thing with your second scarf and bottoms. If I had packed any dresses, I would have put them in this roll as well.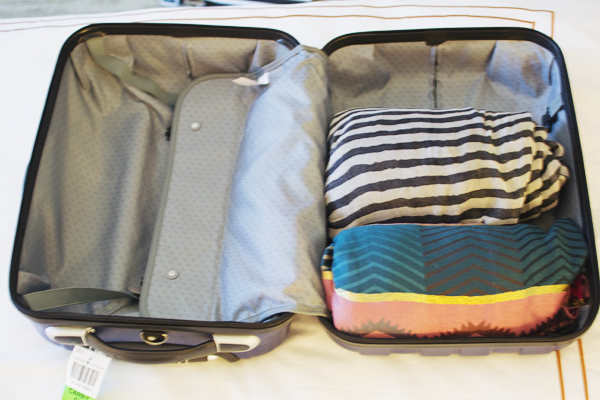 This is what it looks like all wrapped up and placed in the suitcase. Look at how much room I still have to use! Hurrah! In next I'll put shoes, usually in dustbags to keep everything else clean and protect them. I stuff them with socks, tights, scarves and small items to maximize space and keep their shape.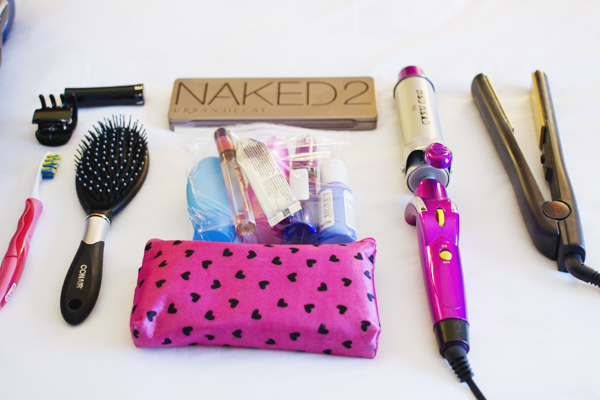 Next we add the essential tools. I usually pack this stuff in a series of small bags so they stay together. Don't forget your plastic baggie for the liquids - I keep this in my personal bag until I go through security to speed up the process.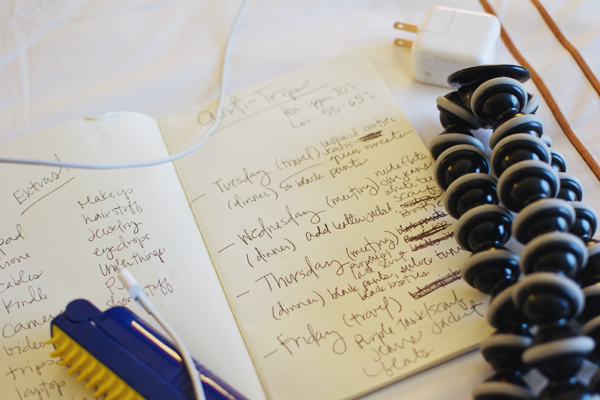 Side note - I am a little crazy so I usually like to list everything I'm taking and possible outfits for the week in a little notebook. In fact, I recommend you carry a small notebook almost everywhere - I use mine a lot. Bloggers will want to make sure they pack all of their cords and a gorilla pod is perfect for taking outfit photos on the road without taking up a lot of space. And yes, in the bottom corner, that is a travel sized Sticky Buddy. I love it for removing lint/hair/whatever from clothes, and it just rinses clean and is ready to go again.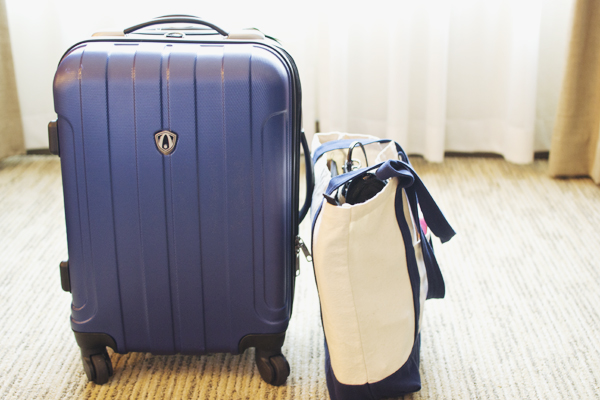 So that's it - zip it up and you're good to go. And if you're wondering what it looks like when you put it all together...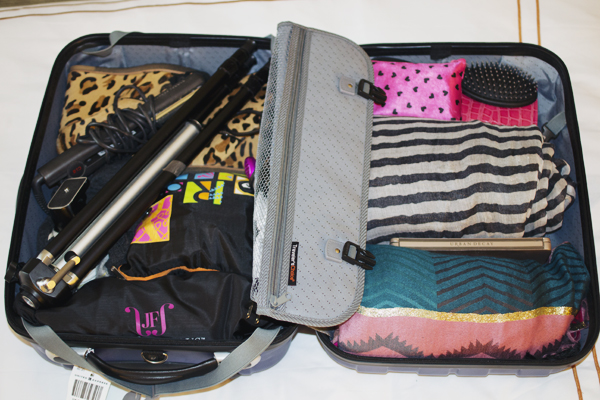 Mine actually looks a little messy because I have to carry so much equipment. It's part of the downside of being a video producer. We don't really travel light, so on any given trip I usually I have 2 or 3 cameras, tripods, lights, mics...and a lot of computer equipment. I like having a mobile office but dang, it's a little heavy.
Feel free to share your travel tips in the comments! I'm literally obsessed with packing blogs. If you want to see the rest of my travel series, I've tagged
(you'll have to weed through some posts that are just about travel of course).